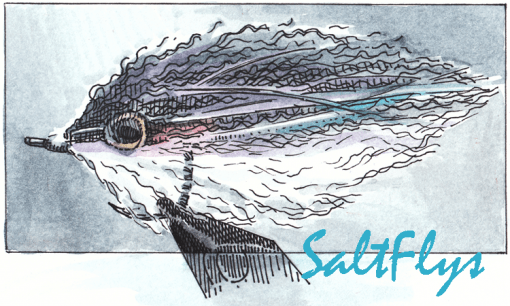 SaltFlys Deceiver Flies – SaltFlys.com
EP Deceiver Flies
My EP Fiber Deceiver Flies all come with mono weed guards.  All of the EP Fiber Deceiver Flies tend to be on the sparse side making them fish better.  In addition, with the use of a heavier wire VMC 7106BN hook, these flies tend to sink better and track true.  This hook is wicked sharp and has a triple micro barb.  
Classic Deceiver Flies
The classic Deceiver Flies are tied from quality neck hackle and natural materials.  The hook choice varies by pattern but include the Gamakatsu B10 Stinger hook and the Dai Riki 930 Stainless Steel hook.
Click on the image for a full description
All of my flies are tied in the USA.
I tie each one to my high standard.
No low quality, fragile, sweat shop flies are sold on this site