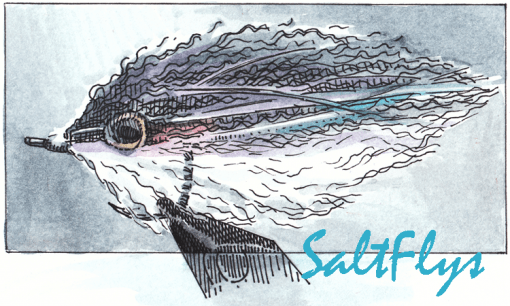 About SaltFlys – SaltFlys.com
About SaltFlys
Everything About SaltFlys
I have been tying for myself, my club-Mangrove Coast Fly Fishers, my fly tying club-The Sarasota Fly Tyers, local guides, and local shops for 30+ years. SaltFlys is an extension of my regular fly tying to bring some of the greatest saltwater flies to everyone. Although my flies are designed for saltwater fishing along the west coast of Florida, I'm sure that your local fish will find them just as appealing.
I am the past president of the Mangrove Coast Fly Fishers ('12-'15), an FFI Charter Club here in Sarasota, Florida, and a member since its inception in 1992. I am currently a member of the FFI Florida Council Board of Directors, and its Fly Tying Chairman. I am also a member of the FFI Fly Tying Board of Governors.  Tying has taken me to many different outdoor shows and fly fishing clubs throughout the Southeast, plus the National FFI Show. I have included many instructional fly tying videos on the Mangrove Coast Fly Fishers' YouTube channel. Several of my fly patterns can be found in the book Fly Fisherman's Guide to Saltwater Prey by Dr. Aaron J. Adams (formally of Mote Marine Laboratories, now of the Bonefish and Tarpon Trust). This is a great book all fly fishermen should have!  I have a pattern appearing in an upcoming book-America's Favorite Flies being compiled by Rob Carter and John Bryan.
Although I'm better known for my feather work, the new popularity of synthetic materials used in fly tying has changed my pattern focus somewhat. For the past few years I have been doing quite a bit of tying and teaching with Enrico Puglisi Fibers. Enrico encouraged me, so I joined the EP Pro Tyer Team. Although they miss some of the subtleties of the natural materials, EP Fibers are a universal substitute. All of the flies found at the SaltFlys Fly Shop have fish approval and have caught numerous fresh and saltwater species. I use top quality materials, glue everything for durability, and use the best quality and sharpest hooks.
I do not use over-seas sweat shops to produce my flies–I tie every one with care and quality.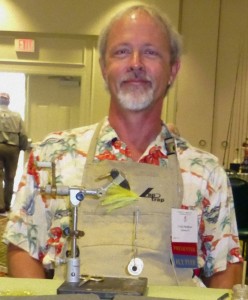 All of my flies are tied in the USA.
I tie each one to my high standard.
No low quality, fragile, sweat shop flies are sold on this site