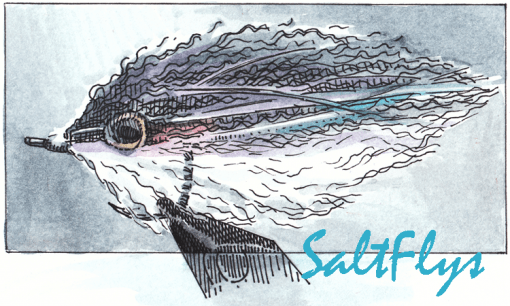 There are a few Links to things I'd like to plug…
First is my IFFF Charter Club- The Mangrove Coast Fly Fishers
I have been a member of this club since its inception in 1992.  I am the past President.  Our club, located in Sarasota Florida meets on the fourth Wednesday of every month (except December).  We have a speaker, fly tying demonstrations, and casting instruction by IFFF Certified Casting Instructors at every meeting.  Non-members interested in fly fishing are encouraged to attend a complementary meeting.  Any IFFF member is welcome as we are a charter club of the IFFF.
Many of my fly tying instructional videos are available on the site.
Second, is my Fly Tying Club- The Sarasota Fly Tyers
[The Liars Club-bring photos, we don't believe anyone.  Don't forget to bring (good craft) beer if you want us to like you.]
This group has been around at least 10 years longer than Mangrove Coast.  It's simply a group of tyers that get together in a garage every Tuesday night, tie flies, talk about fly fishing, and have a beer.
Third is Capt. Pete Greenan
Pete has been a great friend, traveling companion, and a first rate Captain.  Pete formed Mangrove Coast Fly Fishers, and has been the President of the club twice.  He helped form and is a past President of the IFFF Florida Council.  He is an IFFF Master Casting Instructor and is currently on the IFFF Casting Board of Governors.  He is a mentor to all things conservation and fly fishing.
Capt Pete has been operating his fly fishing charter service in the Boca Grande backwaters for over thirty years.  If you're planning a trip to the area to fly fish, I can't recommend any better choice of Captains.
Fourth, My Blog
Please feel free to visit my blog.  It has fly tying tips and tricks, fly tying videos, and me ranting on various fly related topics: